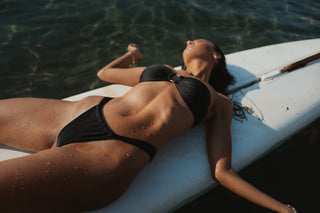 Made to bring out the best in you
Vision & Mission
CALUA is a female-founded lifestyle brand, focused on beachwear and loungewear. Known for confidence-boosting cuts, the most luxurious fabrics and innovative designs and made to make women feel their best.
Our Vision
CALUA is more than a brand. CALUA stands for self-realization, self-confidence and self-love. We want to take you on a journey, without rules and without norms, with courage, cohesion and love. The world is changing so fast that you will be left behind if you yourself don't leave the things behind that could hold you back. The future knows no stereotypical thinking and no (country) borders, because it is inconsistent, unmanageable and offers endless possibilities.
We rely on the diverse and the deviant and use our opportunities to experiment and live creatively. CALUA stands for a philosophy of life. Our pieces are intended to represent an expansion of self-confidence and to underline the uniqueness of every woman. We have freed ourselves from the old role model that pretended how a suitable life for a woman looks like in earlier times. The old clichés have had their day, which is why CALUA supports a completely new self-image of the current generation of women.
Our Mission
Individuality is key. That's why we prefer to produce only few, but special and high-quality pieces. With CALUA, we want to encourage you to think differently, to feel good and to live out your individuality. We want you to change buying less, and therefore original creations, in a good quality to use it longer, from environmental sustainable materials and from positive social impact. We want you to show who you truly are and that our pieces support you in underlining your personality, your character and your passion. That is why we put the biggest love into details and always want to be a small step ahead. With our message we would like to encourage you to be the best version of yourself and give you joy with our pieces, so that you radiate when wearing them.
Made to make you feel beautiful, sexy & confident
"I am a woman - I know exactly what other women want. I am totally picky myself and therefore, I have perfected my designs down to the smallest detail in order to present the female body perfectly. For me, high quality begins with the choice of fabrics and ends with the packaging of my bikinis. With every order, I send you a box full of love and hope that you will always radiate your inner goddess energy when wearing my designs."
xoxo,
Luisa