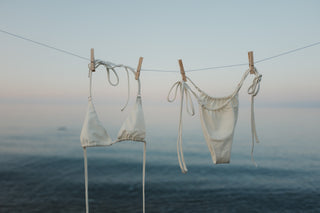 Would you like to create an account at CALUA? No problem.
Go on our website and select "Account" from the top right menu. You will then be directed to the login area and can click on the "Register" field below. Once you've entered your first and last name, email address, and set a password, you're pretty much done.
You will shortly receive an email at the email address you provided and be asked to activate your account. When you have done that, your account is ready and you can now order more easily and quickly and view your orders at any time. You also have the option of changing your address yourself easily, or adding more addresses.
If you place an order or create an account, you will receive emails from us about your orders after your approval. Even if you sign up to our VIP Newsletter, we will send you regular emails with news, sales and inspo to your email address. Please note, that you'll first receive an email after your registration, in which you must agree to receive CALUA emails.
If you do not receive emails from us, this may be due to the following reasons:
• The emails end up in your spam folder. First, see if you can find them there.
• You have not agreed to receive emails and we are therefore not allowed to send you emails. Check your inbox for the email asking you to opt-in to receiving our emails and click the link included. You should be receiving ours by now.
• Check your email address. Log into your CALUA account and make sure you have entered the correct email address. If you make a mistake, you can change your email address at any time, or register again with your correct email address.
If you still have problems receiving our emails after this, please contact us at info@calua.shop and we will take care of your matter immediately.
You can currently choose between German and English and view the prices in numerous different currencies. All you have to do is select the language and currency you want from the menu bar at the top right.
No, you do not have to. You can also easily order as a guest. However, we would still recommend to create an account so that you do not have to re-enter your details every time you shop with us. You also have access to your details and orders at any time, which makes shopping with us even more relaxed.
We are very excited that you want to join our world! To register, you can either agree to our email marketing when placing an order, or simply register for the newsletter on our homepage. For this purpose, when you go to our website, a pop-up opens where you can enter your email address. Alternatively, you will also find an extra area at the bottom of our website, where you can also register.
Please note that you must agree to receive CALUA emails after registration. You will receive an email from us asking you to confirm your registration.
The item you want is currently sold out and you would like to be notified when it is available again? No problem! Simply go to the respective product page, choose your desired size and click on the "Notify when available" field. We will then send you an email or SMS when the item is back in stock.
Would you like to return something from your order? In our returns portal you can easily select the items you want to return and track the status of your return at any time. If you are unable to log into the returns portal, this may be due to the following reasons:
• You entered an incorrect order number. Check your order number by checking one of the emails we sent you about your order. The order number starts with # followed by 4 digits.
• Your email address is incorrect. In order to be able to find your order, you must use the email address that you used when ordering. This is also the email address under which you received the emails about your order.
• The return period for your order has expired. Please note, that we can only accept returns up to 14 days after the receipt of the package. If this period has been exceeded, you can unfortunately no longer register your return in the returns portal.
If the registration of your return does not work properly, if you suspect an error in your email address, or if you cannot find your order number anywhere, please contact us at info@calua.shop and we will take care of your matter immediately.
In order to view your orders and contact information, you need to log in with your CALUA account. If the login does not work, it can be due to the following things:
• You used the wrong email address. Make sure you use the same email address that you used when registering.
• Your password is wrong. If you don't remember your password, you can simply click on "Forgot your password?", enter your email address afterwards and we will immediately send you an email to reset your password.
• If necessary, you should deactivate the "block cookies" function in your browser settings.
• Make sure Javascript is enabled in your browser settings.
• No content blockers must be installed.
If the suggested solutions do not help and the problem persists, please contact us at info@calua.shop and we will take care of your matter immediately.
Too bad you want to go babe! If you no longer wish to receive our newsletter, you can easily unsubscribe. To do this, click on "Unsubscribe" at the top or bottom of a newsletter and we will remove you from our contact list.
If the unsubscription did not work properly and unwanted emails from us continue to land in your inbox, please contact us at info@calua.shop and we will take care of your matter immediately.
We do our best to offer you the best shopping experience at CALUA. Nevertheless, questions can of course arise from time to time, which is why we have designed the help area in great detail. Of course we hope that you can find an answer to your question here.
If this is not the case, you can for sure leave us a message at any time on Instagram or under "Contact us" at the bottom left of the start page. Alternatively, our customer service is of course also available to you at any time at info@calua.shop. Please note that we can normally only be reached from Monday to Friday. Of course, we try to process all requests as quickly as possible, within 24 hours. However, in individual cases it can also happen that our response time is longer than usual. We ask for your understanding in this respect and are happy to help out via Instagram at any time in urgent matters.
Didn't find your answer?
Don't hestitate to contact us.